Three types of support:
1. Behind the curtain – we coach your leadership
2. We start the process, establish standards, turn it over to you to implement – this typically includes a launch seminar
3. We take responsibility for the change process
Train up and maintain your sales strength with specialty sales programs based on the Urgency Based Selling® system. These programs work well independently or as part of a custom-designed program of solutions.
Bold Behavior Coaching
A major reason salespeople fail at business development is: they aren't bold enough. They don't embrace conflict and they fail to:
1) Defend your price
2) Ask about competition
3) Escalate, when necessary, to higher decision-makers
4) Securing warm introductions and testimonials?
We can help you coach your sales team to bolder behavior.
Call us at 201 415 3447.
Or visit this page: https://www.urgencybasedselling.net/urgent-need-for-sales-training-2/
9 Week Jump-start
Often requested by clients, the Urgency Based Selling® 9 Week Jumpstart features key components of the full Urgency Based Selling® program.
We meet with your team for up to one full day per week for eight weeks. During that time, your sales team will experience the transformative concepts and skills to achieve sales excellence, including:
Bold behavior
Bold vision
Selling effort
The "do or die" ethos
Each day begins with a one-hour team seminar, followed by one-to-one sessions with each sales team member and the team manager. Each week, the ideas presented are reinforced with a business development assignment each team member must complete.
You will see immediate changes in attitude, effort and results.
Jump on this opportunity! Schedule your 9 Week Jumpstart.
---
The Secrets of Urgency Based Selling – 7 sessions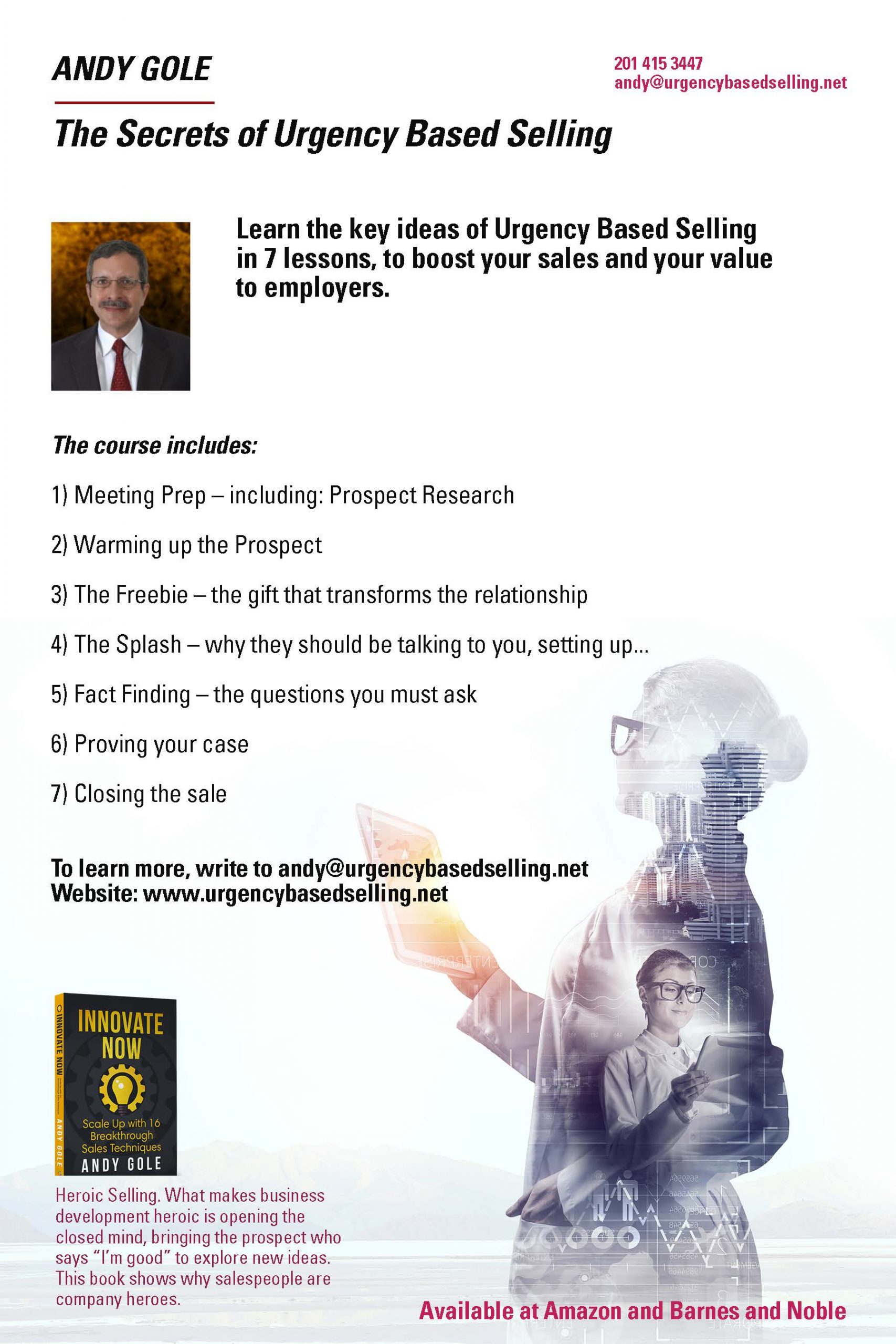 ---
The Battle Plan program
Business Development is usually a 3-12 month project.
As a society, we are poor long term project managers.
When you combine a long term project with poor project management, you get a train wreck. And very few new customers.
A strong solution is: the battle plan. To see the 50 seconds video, please click here to learn more. 
Jump on this opportunity! Schedule your Battle Plan program.
---
One Day Sales Improvement Program
What would happen to your business if every sales call was more effective?
Please click here to learn more.
Jump on this opportunity! Schedule your One Day Sales Improvement Program.
---
The Testimonial Letters Program
Is there a way to reinforce the learning mindset and transform team members with a fixed mindset in advance of a sales training and development program? When a company hasn't emphasized securing proper testimonials, the testimonial project can accomplish this goal.
Article in Training Industry:
Priming sales teams for training and development – the testimonial project
Click here to link to the article:
For a testimonial letter about the program, please click here.
---
Seminar for Professional Partners – A Powerful Sales Diagnostic
Share valuable sales expertise with clients and prospects. Ask great diagnostic questions.
Please click here to learn more.
---
The Standard Sales Call
The Step by Step process to warm of up the prospect, learn their urgent needs, determine if you "have a fit", then demonstrate the fit to the prospect and close the sale. To learn more, please click here.
Jump on this opportunity! Schedule your Standard Sales Call assessment.
---
The Book of Selling Knowledge
Imagine having all essential selling knowledge, tools and process in one place – as a both an instructional guide and a brainstorming book – to help sales team members when they are stuck. For more info, please click here.
Jump on this opportunity! Schedule your Book of Knowledge assessment.
For a video, please click below.
---
A Sales Program Millennials Can Love
Purpose – The Heroic Salesperson
Participation – an open system, inviting improvement
Mentoring – one to one coaching to brainstorm, share wisdom
Education – practical knowledge; selling which works
Team Building – developing mutual respect, camaraderie and learning
Social Media – capitalizes on social media skills
To learn more, call Andy at 201 415 3447; email: andy.gole@urgencybasedselling.net
---
When the prospect goes "radio silent"
What do you do when the prospect says "I'm good" or goes "radio silent".
In this interactive seminar, we share selling techniques which work – opening doors, re-engaging the radio silent prospect.
To learn more, please click here.
Jump on this opportunity! Schedule your 'radio silent' program.
---
Annual Sales Checkup
Don't let sales flat-line! Ensure the health of your company with an Annual Sales Checkup.
Ask yourself:
Sales Management
Is sales management:
Rigorous enough?
Click here to view video
Profit oriented, evaluating, and managing the business case?
Establishing and managing by a standard selling product, a standard sales call?
Scheduling effective one-to-one coaching with salespeople, with enough frequency?
Hiring effectively?
Teaching sales as project management?
Sales Team
Are sales team members:
Selling with bold vision, bold behavior?
Click here to view video
Business sellers (vs. social sellers)?
Committed to Do or Die (vs. best efforts)?
Click here to view video
Aligned with the company's risk tolerance?
Opening enough new accounts?
Securing enough prospect introductions and customer testimonials?
Click here to view video
Following the company selling process, using the selling tools, and documenting in CRM?
Top Management
Is top management supporting:
Sales management, with coaching in strong one-to-ones?
The selling culture?
Selling tools development, including developing and evolving the Proving Kit?
Design of a proper selling system?
Documentation of the selling process, and incorporating it into your company's Book of Business?
A plan for closing any material gaps?
Featured Resources
Innovate Now shows how to sell for emotional intoxication! In modern culture, it's an oxymoronic idea. Consider the direct and indirect impact of negative stereotypes like Willy Loman in Death of a Salesman; on the surface "joyous selling" is absurd.It's an extraordinary idea! To potentially achieve emotional intoxication through selling, that is: heroic selling.